Extra irritable with the people in your life? 
  Low on energy and optimism?
  Counseling can help.
Depression Counseling
You feel down and sometimes feel very sad for little to no reason.
It's hard to get out of bed in the morning.
You don't feel like doing the things that used to bring your joy.
Lately, you don't even feel like spending time with your close friends and family because you don't want them to comment on your mood.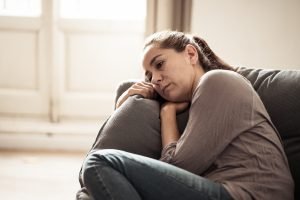 Depression can sneak up on you. For example, it may begin as the "Sunday night blues." You write it off as simply dreading going back to work. But, when you really stop to think about it, you feel down more often than not. Lately, everything feels challenging. You don't have the energy to go out, run errands, make plans, or even off the couch. You may be wondering what's happening to you because you don't feel like yourself anymore?
Or, this may be a familiar set of feelings that you both recognize and dread. You remember how hard it was the last time you were depressed and how sad and hopeless you felt. Maybe, you struggled to recover from your depression, so the last thing you want is to go through it again! 
Depression is Common:
Did you know that depression affects 17.3 million American Adults? In fact, it is one of the most commonly diagnosed mental health disorders.
The Symptoms of Depression Include:
loneliness
isolation
fatigue
despair
losing your sense of humor
a lack of interest in anything
relationship challenges
ignoring personal hygiene tasks
"why bother" thinking: when nothing seems worth the effort you would have to put into it.
You may recognize these as some of the hallmark symptoms of depression. Or, you may recognize them in a deeper, more uncomfortable way because they are what you are going through right now. You may even blame yourself for your depression or feel ashamed of it. You keep hoping you'll get over it or that it will just go away in time. This might keep you from telling anyone how you're feeling. Maybe, the effort of finding a therapist you will like working with seems way too overwhelming so you don't even bother. Unfortunately, this keeps you from getting the treatment you need.
Depression Not Only Affects Your Mood, It Impacts Your Physical Health Too
Many of the most obvious symptoms of depression are emotional. But, over time, depression can affect your physical health. It can cause increased chances of heart disease and stroke, problems with your weight, difficulty sleeping, and trouble concentrating. Furthermore, depression can actually cause physical pain. It can also lead to substance abuse and self-harm. 
Depression in Pregnancy and After Childbirth
There are many different mood disorders that can affect women before or after they give birth.
Perinatal Mood Disorders include:
Prenatal Depression:
15% of women experience depression during their pregnancies. The symptoms of prenatal depression may include:
low-self-esteem regarding parenthood
loss of interest in things you used to enjoy
being unresponsive to reassurance
lack of adherence to good prenatal care
low weight gain or loss of appetite
thoughts of self-harm
Postpartum Depression (PPD):
Postpartum Depression is different than the "baby blues," which typically go away by the third or fourth week postpartum. PPD lingers and is characterized by a range of symptoms including:
irritability
trouble sleeping
feelings of hopelessness
atypical loss of interest in sex
anxiety
negative scary thoughts regarding harming yourself or your baby.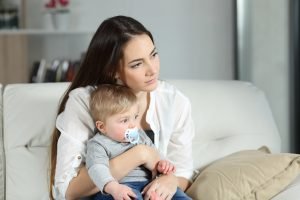 It's important to know that postpartum mood disturbances can include postpartum anxiety, postpartum OCD. And, in rare and extreme instances, women can experience postpartum psychosis which requires immediate, emergency treatment.
Elizabeth Brokamp provides postpartum depression treatment at Nova Terra Therapy. She specializes in helping mothers feel better. The Postpartum Stress Center is a wonderful website that has resources for women experiencing postpartum mood disorders. Additionally, Karen Kleiman, the Center's founder, and lead clinician has written several good books, including The Postpartum Husband, for the partners of women struggling with mood disturbances after birth. 
Depression During Parenthood
You don't have to be a new parent to experience depression. Depression can strike at any point on the parenting journey. It can make it hard to be present with your kids, handle your usual responsibilities, and interact with family and friends. If your nightly glass of wine has turned into two glasses, you have lost interest in your usual activities, and you are finding it hard to connect with others, you may be experiencing more than just a little stress. You may be depressed. But, depression treatment can help you regain control of these emotions and feel better! 
Depression Treatment Will Help You Feel Better
The good news is that there are highly effective treatments for depression. The most common form of depression treatment is Cognitive Behavioral Therapy (CBT), exercise, and medication. The trick is finding out which method or combination is right for you. As therapists, we cannot prescribe medication. But, if that is a treatment method you would like to pursue, are happy to coordinate treatment with your doctor or psychiatrist. Medications can sometimes take a while (up to two months) to be effective. And, sometimes it takes a doctor and patient a while to figure out which medication works for you and has the least amount of negative side-effects. But, counseling can provide helpful and much-needed support in the meantime.
If you are a proponent of non-medication options for the treatment of depression, we respect that decision, too. We will work with you to come up with a plan to combat your depression that utilizes remedies other than medication. In addition to the treatment methods above, it is really helpful to have a guide out of the darkness of depression. Someone to hold up a lantern and say, "This way. This is the path out of here."
Your counselor can lead, as well as walk alongside you, as you fight against your depression. With treatment, people suffering from depression can begin to feel better faster, be more present with their loved ones, and get more joy from their lives. 
Begin Depression Treatment in Burke, VA
It can be hard to open up your depression to the light of day and to reach out and share just how hard it's been. Depression is so isolating that it may feel risky to reach out. But, our hope is that you will contact us to learn more about the ways we can help you overcome your depression.
To begin depression treatment in Burke, VA, follow these steps:
Contact our Washington DC area mental clinic

 

to set up a free 15-minute phone consultation to determine if depression treatment is right for you,
Meet with one of our compassionate counselors

 

who specializes in treating depression
Begin depression treatment and find happiness in your life.
Other services offered by Nova Terra Therapy:
Bored and Fragile: Handling this Next Phase of Quarantine is Hard I will admit it: I was almost annoying positive during weeks 1 through 3...