Online counseling for clients who reside in the state of Virginia.
Online counseling can be a preferred or more convenient option for seeing your therapist. 
Maybe you need confidentiality for your job or can't stand another minute of driving.
Whatever your preference, we are here.  W
e
firmly
believe that counseling should be as accepted and encouraged as is every other way we take care of our bodies
. But, we know that not everyone feels this way. You want the convenience of going to a counseling office that is close to your home or work. But, you do not want the risk of run-ins with neighbors, acquaintances, or co-workers. 
And, in the Washington DC area where people have government jobs, security clearances, and other sensitive professional considerations, privacy and confidentiality can be
really
important
.  
Online therapy in Virginia provides you with a convenient
way to access quality mental health care
Online therapy (also known as telemental health, video therapy, etherapy or distance therapy) includes several different electronic means for counseling
.
Therefore
, counseling can happen without the client and therapist having to be in the same physical location
. 
Online therapy is a great solution for many clients:
People with privacy concerns,

Men and women who are busy,
Professionals who travel,
Individuals with health concerns or mobility issues,
Parents with new babies or young children,
Clients who

simply

prefer the convenience of online counseling.
Online Therapy in Virginia is a GREAT option when you are sick or when there are public health and safety concerns
We also have clients who use online sessions as a backup for when they are sick. Or, when there are public health and safety concerns.
Covid-19, better known as Coronavirus that is currently affecting our country is an example of a time when clients may be more comfortable seeking online treatment than in-person counseling
. Nova Terra Therapy is proud to offer online therapy to both new and continuing clients.
At Nova Terra Therapy, Elizabeth Brokamp provides online counseling for clients who are Virginia residents
. 
Elizabeth holds the BC-TMH certification, which stands for "Board Certified – Telemental Health," awarded by the NBCC (National Board of Clinical Counselors)
. 
This means she has trained
specifically
in the delivery of ethical and effective counseling online
.
Online therapy services at Nova Terra Therapy include:
Video Counseling Sessions (50 Minutes) 
Video and phone sessions allow the therapist and client to meet in real-time.
The choice of what type of distance services to receive is up to you, your budget, personal preferences, and the professional opinion of your therapist
. 
If you
are interested
in online therapy we offer a
free 15-minute consultation
to determine if it will meet your needs
. We can answer any questions you may have, share some of the ins, outs, and quirks of working online.
This allows you to be
fully
informed about online therapy, and troubleshoot any issues that could come up
. 
We also explain the paperwork that you will need to fill out to begin our work together, should you decide to proceed
. 
Are there mental health issues that are best treated in person?
Simply
put, yes. 
Please note that this process
is based
on best practices
in terms of
what
is considered
ethical, as well as what is within my personal scope of practice
. 
For example, some issues for which we would consider in-person therapy more appropriate to meet your needs would be:
active eating disorders, or

any case in which suicidal ideation or intent is present or is a real possibility based on past history.
These are the types of issues that merit in-person treatment and access to local and emergency services

.
The determination
as to
whether or not
to proceed will
be made by
both of us.
 If online therapy appeals to you and we determine that it's appropriate for your situation, we can move forward
.
How tech-savvy do I need to be?
You will need to be comfortable accessing the Internet, using video technology, and troubleshooting technical issues
. 
If you not sure if you are comfortable with the technology needed for online therapy, please schedule a consultation
.
We can use that time to assess how well the online venue works for you, as well as taking the time to get acquainted with each other
. The consultation call is free and will last 15 minutes.
Are there any quirks or issues with online therapy that I should know about?
Yes, as with all technology, there are definite quirks! 
It is possible that technological issues, for example, could cause an interruption in a session due to loss of connectivity
. There can also sometimes be a slight time lag due to connection difficulties. 
These types of issues can get frustrating because they interrupt the conversational flow in therapy
. And, this can lead to uncertainty about what to do next. We will have an agreed-upon procedure in the event that glitches happen.
This includes making sure you get your session time if not that day, then at a future day and time that is convenient for you
.
Do you use a different method or modality during online therapy?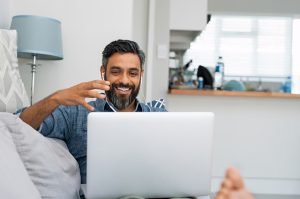 Good question! 
We apply the same level of clinical skill to distance sessions as in all private counseling sessions
.
Through the use of cognitive-behavioral therapy and other therapeutic techniques, we focus on immediate take-aways and results
. 
While the therapeutic process is the same, please note that Elizabeth does have specialized training in distance therapy
. 
She holds the BC-TMH credential (she is board certified in telemental health) through an organization called NBCC
.  This training demonstrates that she
is committed
to practicing online therapy
ethically
.
And, she uses the most up-to-date standards in the provision of mental health services online
.
At this time
, she does not provide EMDR treatment online. But, you can ask about other options for treatment if this interests you.
What if I don't like it?
If at any point you feel that online counseling is not for you, we can give you suggestions for how to locate another therapist
.
Psychology Today has an excellent therapist finder that may help you locate a therapist who is a better fit for you
.
Ultimately
, we want what's best for you and your mental health.
How do I make an appointment?
You can reach out to Nova Terra and Elizabeth in several ways.
This phone, email, or through the
client portal
which also allows self-scheduling for your convenience.
Begin online therapy in Virginia:
Online therapy is very successful in helping clients receive quality mental health care in a convenient way. If you are n looking to begin online therapy in Virginia, we can help! To get started, please follow these simple steps!
Contact our counseling clinic

 

to set up a free 15-minute phone consultation to determine if online therapy is right for you,
Meet with Elizabeth, an experienced therapist who sees clients online,
Begin your healing journey online and find peace in your life.
Other services offered by Nova Terra Therapy:
In addition to providing online therapy in Virginia, Our Burke, VA counseling clinic offers a variety of counseling services to adults in the Washington DC area. Ultimately, we hope you will make time to care for you and your mental health in therapy. We specialize in providing individual therapy, Cognitive Behavioral Therapy, anxiety treatment, depression treatment, and relationship counseling. We encourage you to visit our blog for more mental health tips and information. Please contact our therapy office to learn more about the many ways we can support you or your loved one with counseling in-person or online.