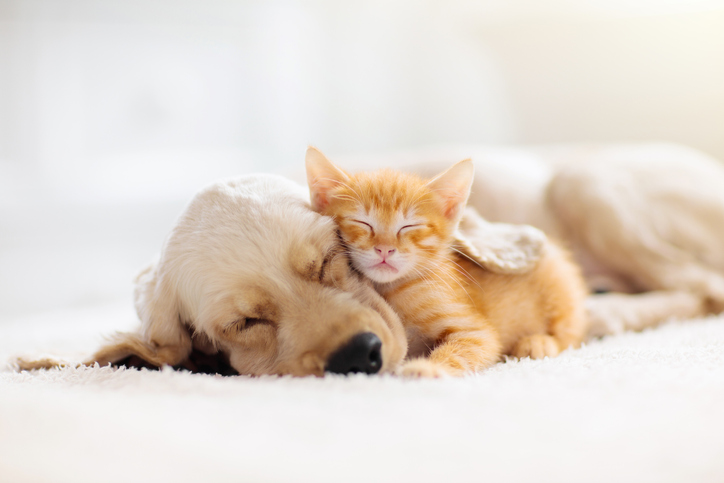 The Best Pandemic Companions
Anyone who loves animals has enjoyed at least one aspect of the pandemic quarantine. It has given many of us time to spend with our own pets, as well as to enjoy pictures, memes, and videos of cute pets around the globe. In a time of fear and change, our pets have helped us to be more mindful and to take full advantage of the present.
It's also led to an surge in animal adoptions and fostering. The Los Angeles and New York ASPCA branches alone reported a 500 percent increase in applications since mid-March 2020. This is not just attributable to people having more free time but what having an animal around can do to enhance mood. In addition to providing entertainment, our dogs, cats, and other beloved creatures have offered emotional solace. When the world is uncertain and scary, knowing that you are still your dog's hero or your cat's favorite napping buddy is important and special.
The Healthful Benefits of Pets
Beyond their uncomplicated adoration, being with our pets offers numerous other benefits. They get us outdoors and moving, which can be particularly beneficial for someone depressed or anxious. They offer warmth and closeness, at a time when many of us are more isolated than ever. And their funny antics, expressiveness, and playfulness offer master classes in mindfulness. Our pets bring our attention back to the present moment, and away from past cares and future concerns.
Research shows that owning pets has enormous benefits for both physical and mental health. The benefits can include: better heart health (lower resting heart rate), lower blood pressure, less depression, fewer visits to the doctor, more exercise, and decreased sensitivity to allergens. Petting our animals and staring in their eyes actually lead to the release of feel-good hormones such as oxytocin, confirmation that our love and care for pets pays enormous dividends all-around.
Practicing Mindfulness with Your Pet
While the mere presence of your pet can help you to be more mindful, you can also be more deliberate about incorporating your dog or cat in your mindfulness practice. This article on mindfulness with pets suggests observing your pet carefully: what does their fur feel like, what sounds do they make, what colors and patterns are in their fur? This kind of attention to detail helps you to stay present and focused. Animal Wellness Magazine confirms that meditating with your pet can have benefits for both of you, enhancing your relationship as well as your overall well-being.
At Nova Terra Therapy, we have enormous appreciation for the role of pets in our clients' lives, as well as our own. Both Jodi and Elizabeth are pet owners and recognize how integral animals can be in the family. Given this, they offer counseling services for pet bereavement and encourage clients to talk about stressful health issues related to pets, to share proud or happy pet accomplishments, or whatever other impactful pet-related experiences you want to share.
In addition to welcoming discussion about your furriest family members, our Burke, VA therapy clinic offers a variety of comprehensive mental health services to adults in the Washington DC area. We specialize in providing individual therapy, Cognitive Behavioral Therapy, anxiety treatment, counseling for women's issues, relationship counseling, trauma treatment and PTSD treatment. We also offer online counseling to people living in the state of Virginia. Please contact our counseling clinic to learn more about the many ways we can support you or your loved one in therapy.